Arma 2: Demo
Jump to navigation
Jump to search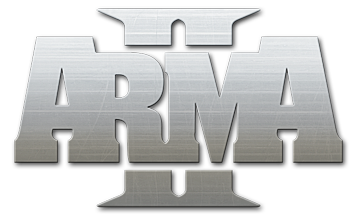 Overview
Arma 2 demo allows you to experience the unique gameplay featured in the full version of Arma 2 including multiplayer, as well as samples of the vast amount of vehicles, weapons and units and realistic environment. The demo also contains a part of Chernarus terrain.
Downloading
File Size: 2.6 GB
Download mirrors:
Installation
To install the game, please follow the instructions provided in the setup process.
System requirements
Minimal PC System Requirements
Dual Core CPU (Intel Pentium 4 3.0 GHz, Intel Core 2.0 GHz, AMD Athlon 3200+ or faster)
1 GB RAM
GPU (NVIDIA GeForce 7800 / ATI Radeon 1800 or faster) with Shader Model 3 and 256 MB VRAM
Windows XP
Recommended PC System Requirements
Quad Core CPU or fast Dual Core CPU (Intel Core 2.8 GHz or AMD Athlon 64 X2 4400+ or faster)
2 GB RAM
Fast GPU (NVIDIA GeForce 8800GT or ATI Radeon 4850 or faster) with Shader Model 3 and 512 or more MB VRAM
Windows XP or Vista
Troubleshooting
X3DAudio1_6.dll: If you receive the following error on launching the demo: "Demo failed to launch, X3DAudio1_6.dll was not found," you need to make sure you have the latest Directx 9 Redistributable installed. It can be downloaded here.
It's possible that extracting the demo with winzip can cause a CRC or corruption error to be reported, we recommend you use 7zip to extract the demo from the archive.
- Uninstall ARMA II DEMO completely from the Startmenu.
- Manually erase all datas found in the installation folder of ARMA II DEMO
- Install ARMA II DEMO from scratch again.
If at any point during a mission you become stuck, or the mission does not progress it is recommended that you restart the mission from the beginning. If the mission looks too hard for you, restart it as well with lower difficulty or try different approach. Missions can be played differently every time.
If you encounter any sound or graphical issues while running the game, please make sure you have installed the latest versions of your hardware drivers and try to tweak your audio and video options.
External Links
Official website
Arma 2 - Forums
Bohemia Interactive (dead link)